Tour 2022/2023 - NEW PROGRAM: TRACES OF THE BLACK SEA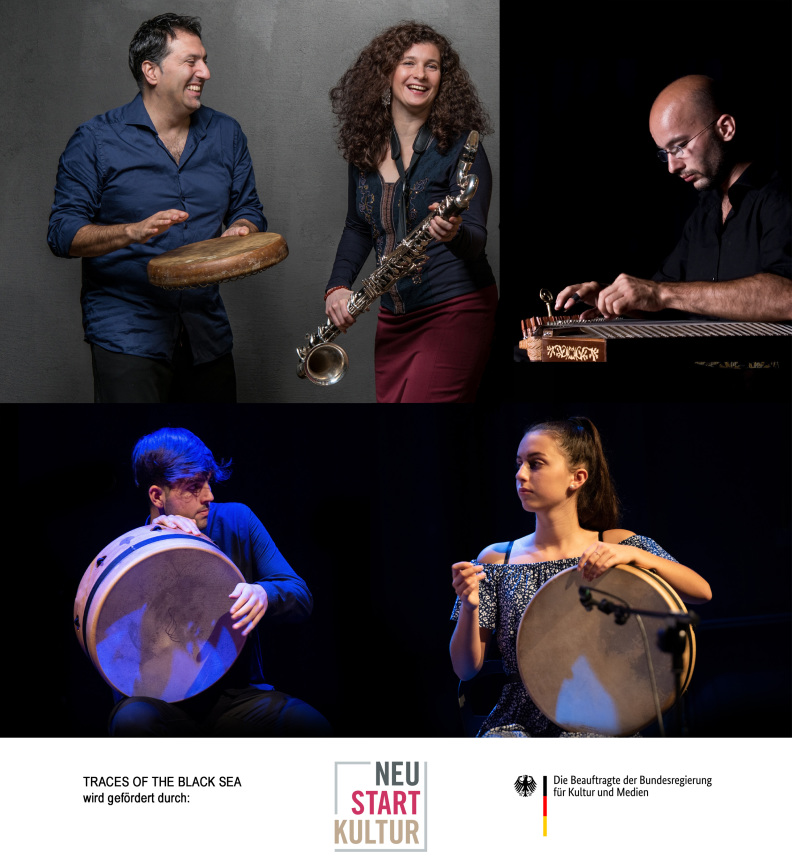 Traces of the Black Sea - Premiere!
Tue, 2023-10-03
18:00

Düren

Haus der Stadt

Traces of the Black Sea

FisFüz

Annette Maye - Klarinette, Bassklarinette
Murat Coskun - Rahmentrommeln, Perkussion

feat.

Muhittin Kemal - Kanun

Sat, 2023-10-28
20:00

79261 Gutach im Breisgau (Ortsteil Bleibach)

Güterhalle Bürgersaal

Traces of the Black Sea

FisFüz and guests:

Annette Maye - Klarinetten
Murat Coskun - Rahmentrommeln

feat.
Muhittin Kemal - Kanun / Malika Coskun - Akkordeon, Rahmentrommmeln / Yaschar Coskun - Rahmentrommeln

In Kooperation mit Kleinkunst in der Güterhall Bleibach
Tickets online: www.reservix.de
Tickets vor Ort:
Buchhandlung Augustiniok, Waldkirch
Blumeninsel Gutach
Touristinfo im Bahnhof Bleibach
Buch- und Schreibwaren Merkle Elzach
Kalender als CSV-Datei herunterladen
Weitere Informationen
Warum kann ich meinen Kalender als CSV herunterladen?
Eine CSV-Datei kannst Du in einem Tabellen-Kalkulationsprogramm (z. B. Excel oder Numbers) öffnen. Dies ermöglicht Dir, die bei uns eingefügten Termine auch anderweitig zu verwenden.
Mit ein bißchen Übung lassen sich Tabellen auch schön stylen. So könntest Du z. B. bei Deinen Konzerten eine gedruckte Version Deines Terminkalenders auslegen.
Traces of the Black Sea - FisFüz and guests
Traces of the Black Sea - FisFüz and guests
Black Sea, that is called Karadeniz in Turkish. Densely forested mountains, stone bridges, woode houses, people in colorful clothes appear in front of the inner eye.
But FisFüz has been known for years for combining their own musical ideas with different traditions and styles into a new surprising whole. In countless projects, the two "heads" of the ensemble, Annette Maye (clarinets) and Murat Coşkun (percussion), have acted as accomplished and sensitive bridge builders between cultures and genres.
This time, it is the music of the Black Sea coast that they set their sights on: This music, shaped since ancient times by influences from the surrounding landscapes and neighboring tribes, fascinates with its variety of rhythms, its humor and wit, as well as the melancholy-proud melodies. Arrangements of well-known dances and songs from northern Turkey, Bulgaria, Ukraine and Georgia alternate with fresh original compositions.
For their new Black Sea project, Maye and Coşkun have brought in reinforcements: with Muhittin Kemal, a virtuoso on the Turkish kanun and companion for many years and on board, in matters of Turkish music a specialist with impressive finger technique!
Yaschar and Malika Coşkun contribute another percussive spice: Since their childhood with their father as "Coşkun Percussion Trio" on the road, the two young musicians master the spirited rhythms and their percussion instruments with seriousness and great playful joy.
Searching for traces on the Black Sea!
Line up:                                                                                                                                                      
Annette Maye - clarinets, composition, arrangement
Murat Coşkun - percussion, frame drums, vocals, composition
Muhittin Kemal - kanun, vocals, composition 
Yaschar Coşkun - percussion, hang, vocals
Malika Coşkun - percussion, accordion, vocals
Some concerts of the "Traces of the Black Sea" tour will be accompanied by the Camerata String Quartet. The quartet will particularly revive the "lyrical soul" of Georgian music with, among others, arrangements of the "Miniatures" by Sulchan Zinzadze.
Camerata String Quartet:
Martina Wündrich - violin
Vera von Kap-Herr - violin
Anne-Françoise Guezingar - viola
Georg Rudiger - cello