Mozart in the Orient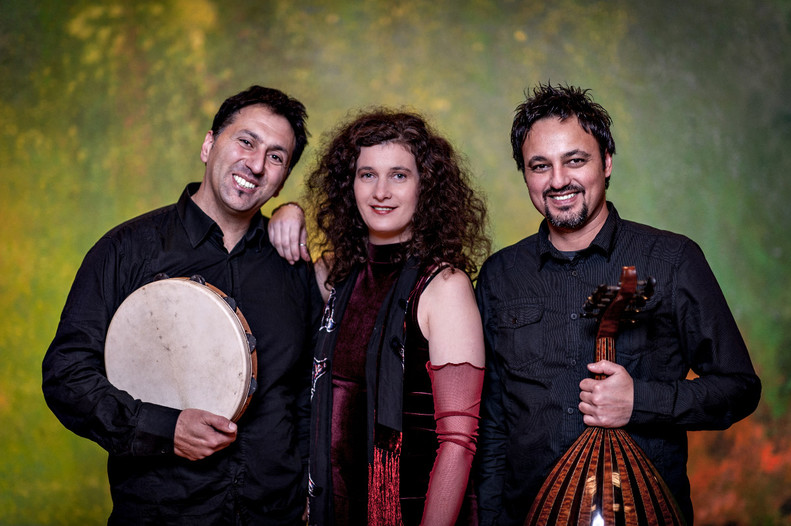 From the program "Mozart im Morgenland"
Nie werd ich deine Huld verkennen
"Mozart im Morgenland"
The abducted from the Seraglio
The abduction of Mozart from the Seraglio in a new robe, interwoven with Turkish music out of Osman times" - this is the classic program of the acclaimed oriental chamber jazz trio. They already concerted on important stages (e.g. 2011 at the Mozartfest in Würzburg, or with a symphonic cast at the Festspielhaus St. Pölten). Celebrated equally from the public and the press, the Turkish-German trio now is on tour with their CD program.
It might have been as follows: young Mozart got the order to compose the music for the opera "Die Entführung aus dem Serail" ("The abducted from the Seraglio"). For this, the composer needed sort of "musical inspiration". Therefore, he voyages to Istanbul with the foolhardy idea to abduct from there two musicians of the court of the Sultan Abdülhamid I. to Vienna. From now on, these two delivered to him the musical material from the Orient. The adventuresome Mozart brings the two Seraglio musicians together with a Prussian clarinetist and now as a trio, lets them play quite unknown sounds.
The three musicians work together on Mozart's musical ideas, growing to arias or becoming own voices, advancing the action. The Turkish-German trio engenders an occidental-oriental body of sound, a fusion of Mozart's ideas with the Turkish music world of the court of the sultan.
The rest of the story is quickly told. The first release of the opera "The Abduction from the Seraglio" the 16th of July 1782 at the national theater in Vienna will be Mozart's greatest success during his lifetime and it consolidates his achievement as a composer.
It may be mistrusted if "The Abducted from the Seraglio" really existed. However, the German-Turkish musicians trio is very real. Nowadays it is called "ensemble FisFüz".
Annette Maye – B-clarinet, bass clarinet
Gürkan Balkan – oud, guitar, vocals
Murat Coşkun – frame drums, percussion, vocals
Radio report SWR: CD review Mozart im Morgenland
CD review with Sebastian Bargon